Sous Vide Salmon With A Blueberry Jalapeño Sauce
I've partnered with U.S. Highbush Blueberry Council and SIMPLY to bring you this Sous Vide Salmon With a Blueberry Jalapeño Sauce.
#BlueberryBreak
OMG! You guys! How freaking crazy was this past holiday season? I must have spent the whole week before Christmas cooking non-stop. What did you make this holiday season? I took the reins this year and made, my Aunt Bobbi's Crab Dip, Sous Vide Roast Beast Crostini, Swedish meatballs from Serious Eats, Sous Vide Jewish Christmas Chinese Style Spare Ribs, Sbagliato Negronis, and my Sparkling Shiraz Cocktail With Dark Chocolate Covered Cacao Nibs. Well, getting this all prepped and ready for the day of is enough to make even a Zen monk a little crazy. On top of all that, eating and drinking until you're about to pop can really cause a lot of stress on your body.
We need to take a break from all that with a good healthy meal! So, let's destress after the holiday binge with 2 foods that pack a big punch, salmon and blueberries. According the American Heart Association, salmon's a good source of protein and high in omega-3s.
Fresh Highbush blueberries on the other hand, are also a great addition to any meal. I love to snack on them as a nutritious replacement for chips and junk food. They make a delicious dessert after dinner. And, blueberries are THE quintessential topping on my breakfast yogurt. You can find fresh blueberries in the produce section of any grocery store 365 days of the year (366 on leap years!).
Why Are Blueberries A Great Break From Rich Food?
According to the U.S. Highbush Blueberry Council, blueberries are only 80 calories per cup and a good source of dietary fiber weighing in at 3.6 grams per servings. Fiber may keep you feeling full longer and aid in digestion. Blueberries are also an excellent source of Vitamin C, which plays an important role in immune function and helps to protect cells from damage caused by free radicals. They're also pretty dang tasty IMO!
I actually couldn't stop eating them off the set, but blueberries are so sweet and guilt free that it ain't no thang!
Destress not Distress
OK. So I've partnered with U.S Highbush Blueberry Council for their #BlueberryBreak campaign. The idea is to sit back, relax, with some refreshing blueberries during/after the chaotic holidays.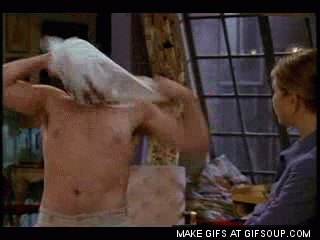 Not like that.
They're doing a giveaway on their Instagram where you can enter to win a $300 Kiehl's gift card.

Details are in the IG post. The giveaway ends 12/31/2017 so get on it!
Wait What Is Sous Vide?!
OK. OK. I know I'm throwing a lot at you guys but I want to show off my favorite Christmas gift from last year. Sous vide (French for under vacuum) is a method of cooking where you seal food in plastic bag or jar and cook at a precise low temperature for an extended period of time. The results are tender, juicy steaks, fall off the bone ribs, and buttery in texture salmon. I got an Anova Circulator last year and everything I've made with it comes out beautifully.
For an in depth look at how to sous vide salmon, check out Kenji Lopez-Alt's guide to perfect sous vide salmon. We're going to sous vide this at 120°F for 45 minutes.
Are We Doing The Sauce Sous Vide Too?
Ha! No. We'll be doing this the old school way. So, while the salmon sous vides, sauté some shallots and jalapeño in a saucepan over medium-high heat for a couple of minutes. Add the some fresh blueberries, balsamic vinegar, brown sugar, Dijon mustard, garlic powder, and salt and simmer until the sauce thickens (about 5-7 minutes). Transfer the mixture to a blender and puree. Return the mixture to the pan and let it cook for another minute. Remove it from the heat and let it cool.
Finishing The Feesh
OK. After the 45 minute long cook is over, the salmon is fully cooked and ready to eat. You can store it in the fridge for up to a day before you the next step. To finish the fish we're basically just going to sear it for a minute so you get a nice crispy skin. Heat a some olive oil in a skillet over high heat. Remove the filets from the bags and gently pat the fish very dry. Put the fish in the pan, skin side down, and sear for a minute. To serve, drizzle the sauce over the salmon and add some fresh blueberries to the plate. Serve the extra sauce on the side.
Now go on! Destress by taking a #BlueberryBreak!
This recipe requires a little something special. Here's a list of what you will need:
Sous Vide Salmon With A Blueberry Jalapeño Sauce

2017-12-28 21:56:34

Serves 4

Destress after the holidays with this super easy, perfectly cooked, sous vide salmon topped with a spicy blueberry jalapeño sauce.

For The Fish

4 4-6 Ounce salmon filets
Juice of half a lemon
Kosher salt

For The Sauce

1/2 Cup minced shallots
1 Jalapeño, seeded and minced
2 Tablespoons olive oil
2 Cups Blueberries
1/4 Cup Balsamic vinegar
1/4 Cup packed brown sugar
1 Tablespoon dijon mustard
1/2 Teaspoon Garlic powder
1/2 Teaspoon Kosher salt

To Sous Vide The Fish

Vacuum seal fish in a plastic bag using either a vacuum sealer or the water displacement method.
Using a sous vide circulator, heat a water bath to 120°F. When water has reached the correct temperature, drop the pouches of salmon filets into it and cook for 45 minutes.
To finish, heat olive oil in a skillet under high heat until it is shimmering. Place the fish skin side down in the oil for 1 minute.

For The Sauce

In a saucepan over medium-high heat sauté some shallots and jalapeño for a 2 minutes.
Add the fresh blueberries, balsamic vinegar, brown sugar, Dijon mustard, garlic powder, and salt and simmer until the sauce thickens (about 5-7 minutes).
Transfer the mixture to a blender and puree. Return the mixture to the pan and let it cook for another minute. You should have 1.5 cups of sauce.
Remove it from the heat and let it cool.

To Serve

Transfer the fish to a plate. Top with the blueberry jalapeño sauce and add some fresh blueberries on the side.

Notes

Sous Vide fish can be prepared a day in advance. Simply "finish" the fish right before you serve.

Nomageddon https://nomageddon.com/