Rosemary French 75 Is Why They Invented The 100 Emoji
The Rosemary French 75. The classic champagne cocktail made with London Dry Gin, Brut Champagne, and Rosemary Simple Syrup.
À Ta Santé!
Cheers! Tchin Tchin! And all that jazz. Who want's a Rosemary French 75? Cuz I do!
What's a Rosemary French 75?
A French 75 is a French (duh) cocktail made with gin, lemon juice, and simple syrup shaken in a mixer and then poured into champagne flutes or coupes. The mixture is then topped off with champagne. It makes a beautiful aperitif and is perfect for dinner parties, showers (bridal not bathroom), and New Year's Eve parties. A Rosemary French 75, however, is a drink I concocted for my girlfriend whose favorite flavor is rosemary. She's not a big fan of sweet drinks and she loves prosecco so the cocktail challenge was on.
I decided she'd dig a French 75 but I needed to include rosemary, which honestly is the perfect way to balance a sweet treat. Just look at this Rosemary Sponge Cake With Apricot compote and White Chocolate Buttercream, this Creme Fraiche Panna Cotta With Rosemary Macerated Strawberries, or these Apple Tarts With Rosemary-Lime Sugar. Then it dawned on me to make a rosemary infused simple syrup. I thought I was being super creative and unique, but then I did a quick Google search and found friends of the blog the Noms of the Gastronomblog already had a recipe for Rosemary Simple Syrup.
To make the simple syrup, boil a cup of water in a small saucepan. Add a cup of sugar and stir until it dissolves. Then add 4 sprigs of rosemary and boil for a minute. Remove the pan from heat and let the rosemary steep for an hour. Pour the syrup through a sieve to filter out the solids into a jar, seal it tightly, and chill until you're ready to use it.
Sweet Vs. Dry
When it comes to booze, there are two terms that define the sweetness of a drink. Sweet is, well, the sweetest. and dry is the opposite side of that spectrum. Since this isn't a sweet a sweet drink we need to use dry ingredients. Let's start with the gin.
This cocktail uses London Dry Gin. There is no one more serious about their gin on this planet than the English. London Dry Gin has a strict set of laws determining it's status and well, I'll just quote Wikipedia on this:
London gin is obtained exclusively from ethanol of agricultural origin with a maximum methanol content of 5 grams per hectolitre of 100% ABV equivalent, whose flavour is introduced exclusively through the re-distillation in traditional stills of ethanol in the presence of all the natural plant materials used, the resultant distillate of which is at least 70% ABV. London gin may not contain added sweetening exceeding 0.1 grams of sugars per litre of the final product, nor colorants, nor any added ingredients other than water. The term London gin may be supplemented by the term "dry".
Basically, London Gin is the purest, driest gin there is. The most common brand out there is Beefeater. What you have to do for this cocktail is thoroughly chill the gin by putting it in the freezer. It's 50% alcohol so don't worry about it become ice.
BRUT!
We need to talk about the champagne we'll be using. We're keeping the ingredients dry, so we'll be going with a brut (rhymes with Groot)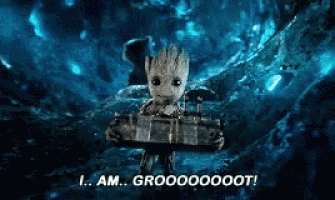 The sweetness scale of champagne goes like this:
Extra Brut (less than 6 grams of residual sugar per litre)
Brut (less than 12 grams)
Extra Dry (between 12 and 17 grams)
Sec (between 17 and 32 grams)
Demi-sec (between 32 and 50 grams)
Doux (50 grams)
Groot champagne Brut Champagne is what we want for this cocktail. You could go with Extra Groot (dammit) if you wanted. Make sure the bottle is well chilled, but do NOT put this one in the freezer. It WILL shatter.
Party Time
Alright, let's stop talking about mixing a drink and mix the damn drink already. Bust out a cocktail shaker and fill it 2/3 of the way with ice. Pour in chilled gin, lemon juice, and chilled rosemary simple syrup. Cover and shake. Then divide the mixture amongst champagne flutes or coupes. Top with chilled Brut Champagne and serve!
This recipe requires a little something special. Here's a list of what you will need:
Rosemary French 75

A traditional French 75 made with Rosemary Infused Simple Syrup, London Dry Gin, and Brut Champagne

Prep Time 1 hour

Cook Time 5 minutes

Total Time 1 hour 5 minutes

Ingredients

For the Rosemary Infused Simple Syrup

1 Cup Sugar
1 Cup Water
4 Sprigs of Rosemary

For the Cocktail

3 Ounces London Dry Gin
1.5 Ounces Freshly Squeezed Lemon Juice
1 Ounce Rosemary Simple Syrup
Brut Champagne

Instructions

For the Rosemary Infused Simple Syrup

Boil water in a small saucepan. Add sugar and stir until it is fully dissolved.

Add rosemary and cook for 1 minute. Remove from heat and let sit for an hour. Transfer to a mason jar filtering out the solids with a sieve. Seal the jar and chill the simple syrup.

For The Cocktail

Fill a cocktail shaker 2/3 of the way with ice. Add gin, lemon juice, and rosemary simple syrup. Cover and shake for 20 seconds.

Pour the contents into a champagne flute and top with brut champagne.

Recipe Notes

Rosemary Simple Syrup recipe from the Gastronomblog. Check them out!
Cocktail measurements makes 1 drink. If you use 1 750ml bottle of champagne you will have enough for about 8 cocktails.