Cinnamon Toast Squanch is a boozy milkshake made with cereal milk, Bailey's Irish Cream inspired by Adult Swim's Rick and Morty.
Squanchy!!!
Hey guys and gals! Are you ready for the squanchiest cocktail ever squanched?
What is Squanch?
OK. So let me first start off by saying that I've formed a little group on Facebook of nerdy, geeky, pop culture obsessed food bloggers. I call it Nomicon, like ComiCon, but with noms. When Nomicon was a little looser, some other bloggers and I created some Archer themed recipes. I made a Pimm's Cup in a Pimp Cup and you can read all about it by clicking the link in this sentence.
Well this month we are doing a themed recipe inspired by a cartoon. Ok, it's still kind of loosey goosey but as long as the recipe is inspired by a cartoon then it qualifies for this theme. I actually went through too many idea's for this one.
My first thought was to make Jake's Sandwich from Adventure Time. Problem is, lobster soul just isn't in season and I it would have been out of my budget.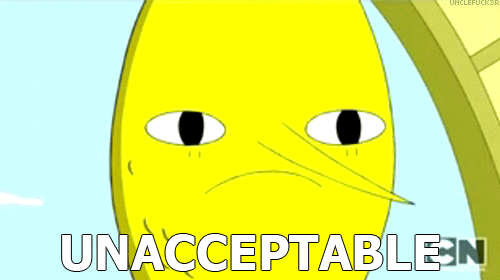 Sorry, Lemongrab. Maybe next time.
My next idea was to make something inspired by South Park. My ideas were "Your Parents Chili", which would have been inspired by that episode where Cartman serves Scott Tenorman his own parents in a bowl of chili for conning Cartman into buying his pubes.
I mean it wouldn't have been YOUR parents… ah well nevermind.
Another thought was Kanye West's Fish Dicks.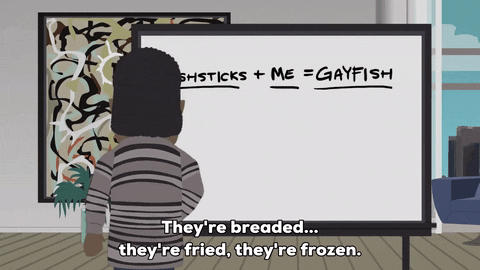 Do you like fish sticks, Kanye?
Well then you must be a gay fish!
Kanye just doesn't get it…
I legit made Mint Berry Crunch Bars.
The power of mint and berries yet with a satisfying tasty crunch! Shablagoo!
Well let me tell you, folks, Mint-Berry Crunch Bars (Crunch Berries bars with mint butter and marshmallow) were fucking disgusting. Really nasty. I felt sick for days, probably because no one should eat that many Crunch Berries in one sitting who isn't 12.
For months, since seeing the hilarity that is Rick and Morty, I've had the phrase "Cinnamon Toast Squanch" in my head. I had no idea what it would be until…
You Still Haven't Told Us What Squanch Is!
Right! Have ya'll scene Rick and Morty? Adult Swim's cartoon about a kid and his mad scientist, alcoholic, debaucherous, grand father who go on bizarre interdimensional adventures together? Well it's hilarious! Anyway, there is a side character in Rick and Morty named Squanchy. Squanchy is a raunchy, scraggly, cat-like, alien creature from the planet Squanch.
Squanchy culture is more contextual than literal. You just say what's in your squanch and people understand.
Thus Cinnamon Toast Squanch was born! Like I said, I have the name in my head but couldn't figure out what it could have been, until I thought of cereal milk!
What The Squanch Is Cereal Milk?
Now you're getting the hang of it! Cereal Milk was created by Chef Cristina Tosi of the Momofuku Milk Bar. Basically, you know how when you're eating a bowl of cereal and the milk at the end is exceptionally delicious? That's because the milk has absorbed all the flavors, sugars, and whatever much like tea leaves in hot water. Chef Tosi's calls for toasted corn flakes but you can use other cereals as long as they aren't too heavy in dyes. Simply take cereal and add it to milk at a 40/60 ratio and let it steep in the fridge for 2 hours. Voila! Cereal Milk!
Can I Make Serial Milk?
Sure! You just have to ask Sarah Koenig really, really nicely.
So, Cinnamon Toast Squanch is a milkshake using cereal milk. Since Squanchy is a whole lot raunchy, I decided to add booze and make it a cocktail. Let's just add a some squanching Bailey's in there!
When you're ready to make your Cinnamon Toast Squanch just add the cereal milk, bailey's, and vanilla ice cream to a blender. Blend on liquify for about 30 seconds and serve in soda fountain glasses. Top with whipped cream and garnish with pieces of Cinnamon Toast Crunch.
Who Are The Nerds of Nomicon?
Oooooooooooweeeeee they all look much better than Mint Berry Crunch Bars.
Well there ya have it. That's how to make Cinnamon Toast Squanch, a boozy cereal milk milkshake!
Currently Jamming To
No Caption Needed…except this is a caption…now I've confused myself.
This recipe requires a little something special. Here's a list of what you will need:
Cinnamon Toast Squanch

The Squanchiest Cocktail That's Ever Squanched.

Prep Time 2 hours

Cook Time 1 minute

Total Time 2 hours 1 minute

Ingredients

1 Cup Cinnamon Toast Crunch
1 1/2 Cup Organic Whole Milk
1/2 Cup Bailey's
4 Scoops of Vanilla Ice Cream
Whipped Cream
Cinnamon Toast Crunch For Garnish

Instructions

For the Cereal Milk

Add 1 1/2 cup milk to 1 cup Cinnamon Toast Crunch. Chill the combination and strain the liquid into a measuring cup. You should have 1 cup of cereal milk.

For The Milkshake

Add cereal milk, Bailey's, and ice cream to a blender and blend on liquify for 30 seconds.

Pour into a soda fountain glass and top with whipped cream. Garnish with pieces of Cinnamon Toast Crunch.