My Grandma's Brandy Alexander Pie
A Brandy Alexander Pie, the classic, creamy cocktail turned into a delicious cream pie.
Brandy Alexander Always Gets Me Into Trouble
Guys, have you ever heard of a Brandy Alexander? It's a classic and simple cocktail. Simply take 1 ounce brandy (or cognac), 1 ounce creme de cacao, and 1 ounce of heavy cream; shake with ice and pour into a coupé glass. Garnish the drink with freshly grated nutmeg and serve.
I took it a step further with this one by rimming the glass with crushed Trader Joe's Dark Chocolate Coated Cacao Nibs. They just go so well with creamy cocktails.
From Grandma Minnie's Collection
So, one day I found my Grandma Minnie's recipe box and started thumbing through it. Amongst the matzoh ball soup and rugalech recipes, I found this recipe glued to an index card for a Brandy Alexander Pie. OMG, I thought, Grandma's a freaking genius! Then after a little Googling I found this article for Dick Taeuber's Brandy Alexander Pie on the Failing New York Times' website. Welp, I guess it's kind of like that episode of Friends when Monica and Phoebe try to duplicate Phoebe's grandma's best ever chocolate chip cookie recipe from Neslée Toulousé.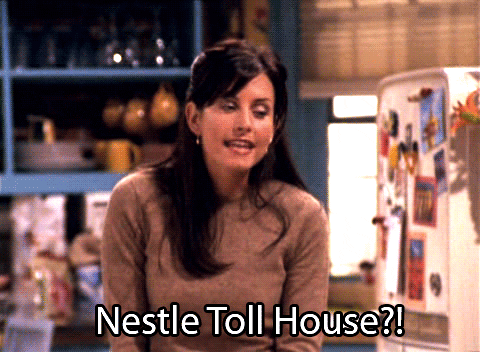 Anyway, I read the recipe and I read Amanda Hesser's write up in the aforementioned New York Times link, and I noticed that the instructions are kind of outdated. The recipe did come from 1970, after all. So, I decided to update it and tweaked the recipe just a teeny tiny bit. Now let's make ourselves a Brandy Alexander, get a little buzzed, and dive in.
Graham Cracker Crust
What? Did I just say Graham Cracker? Hell yeah I did. The original recipe calls for 1 1/2 cups of graham cracker crumbs. But how do you get to that point? My method requires you weight out 6 ounces of Graham crackers, break them up with your hands, and toss them into a food processor. Blitz until you have coarse crumbs. Next, drizzle in the melted butter while pulsing the crumbs, so that everything is nice and evenly coated. Add the crumbs to a 9 inch pie pan and press the crumbs firmly into bottom and sides. Bake it for 10 minutes at 350°F.
Brandy Alexander Pie Filling
Now what? Now we make that fluffy, creamy, boozy, and oh so delicious pie filling. Fill a medium saucepan with water and then sprinkle a packet of Knox gelatin on top. Add sugar, salt and egg yolks to the pot. Stir to blend and then turn on the heat and cook over low heat until gelatin dissolves and the mixture begins to thicken (about 3 minutes). DO NOT LET THIS BOIL! The egg yolks will harden and the mixture will become lumpy and unusable. Remove it from the heat, add the booze, and stir. Chill until the mixture starts to mound slightly when when nudged with a spoon (about 15 minutes).
Kitchen Aids: Ain't Technology Grand?
OK here's another part we alter the recipe a bit. The original recipe makes no mention of using any sort of kitchen gadgets. In fact, I'm convinced they want you to whip eggs into a meringue and whip cream by hand. Fuck that!
So let's bring this puppy into the 21st century. Bust out a stand mixer and the whisk attachment. Pour the egg whites into the bowl and turn it to 6. Whip them whites until soft peaks form (about 3 minutes). Add sugar and beat some more until peaks become stiff and hold their shape better (about a minute more). fold the merengue into the mixture.
Next clean out stand mixer bowl and the whisk attachment. Add the cream to the bowl and whip until soft peaks have formed and cream has about doubled in volume (about 3 minutes). Fold that into the egg mixture.
Now, you're ready to fill the pie crust. Simply pour it into the pie crust and even it out with a silicone spatula. Put the pie in the fridge and chill for at least 2 hours and up to overnight.
Toppings!!!!!!!
The original recipe says you can garnish the pie with chocolate curls right before you put int in to chill. Well let's take it a step further by adding home made Brandy Alexander whipped cream on top. Relax it's not that hard. In fact, I have a recipe for it:
Spoon your whipped cream on top of your chilled pie and for the piece de resistance:
I went to Trader Joe's and picked up some chocolate covered raw cacao nibs. Sprinkle them on top like you were the Salt Bae of cacao nibs and BAM. You've got yourself a Brandy Alexander Pie.
This recipe requires a little something special. Here's a list of what you will need:
Brandy Alexander Pie

2018-03-05 18:46:49

The classic creamy cocktail turned into a delicious, boozy pie

For the Pie

6 Ounces Graham Crackers
⅓ Cup Melted Unsalted Butter
1 Envelope Unflavored Knox Gelatin
⅔ Cup Sugar, Divided
1 Teaspoon Salt
3 Eggs, Separated
¼ Cup Cognac or Brandy
¼ Cup Creme De Cacao
1 cup heavy cream

For The Topping

1 Cup Heavy Cream
1 Tablespoon Creme de Cacao
1 Tablespoon Brandy (or Cognac)
1 Tablespoon Powdered Sugar
Dark Chocolate Coated Cacao Nibs

For The Pie

Preheat oven to 350°F. Break graham crackers into a food processor and blitz until you have crumbs. Slowly drizzle butter into food processor while pulsing, making sure butter is fully incorporated. Pour crumbs into a 9 inch pie pan, pressing firmly into pan to form a crust.
Pour 1/2 cup cold water in a medium saucepan. Add 1/3 cup sugar, salt, and egg yolks. Stir to blend. Heat over low heat and stir until the gelatin dissolves and the mixture thickens (about 2 minutes). DO NOT BOIL. Remove from heat.
Stir the Cognac or brandy and creme de cacao into the mixture. Chill until it starts to mound slightly when nudged with a spoon (about 15 minutes)
Using a whisk attachment on your stand mixer, beat the egg whites on medium high speed (6 on a Kitchen Aid) until stiff (about 3 minutes. Add the remaining 1/3 cup sugar and beat until peaks are firm (about 1 minute more). Fold the meringue into the mixture in the pot.
Whip the cream in the stand mixer with the whisk attachment on medium high until about doubled in volume. Fold into the mixture in the pot.
Turn mixture into the pie crust and chill until mixture firms (at least 2 hours and up to overnight).

For The Topping

Add cream, brandy or cognac, creme de cacao, and powdered sugar to a stand mixer with the whisk attached. Beat on medium high (6 on a Kitchen Aid) and whip until doubled in volume (about 3 minutes).
Pour mixture onto the pie and spread with a spatula until covered.
Top with cacao nibs.

Adapted from Dick Taueber

Nomageddon https://nomageddon.com/